Window of Health - Gut Tract
Gut tract including small and large intestine which both are well-known digestive organs but also less-known immune organs.

No matter nutrients or others (medicines, pathogens, or others) are processed by guts at first line before entering bodies due to meal habits. That causes the immune response significantly if any issue breaks from gut.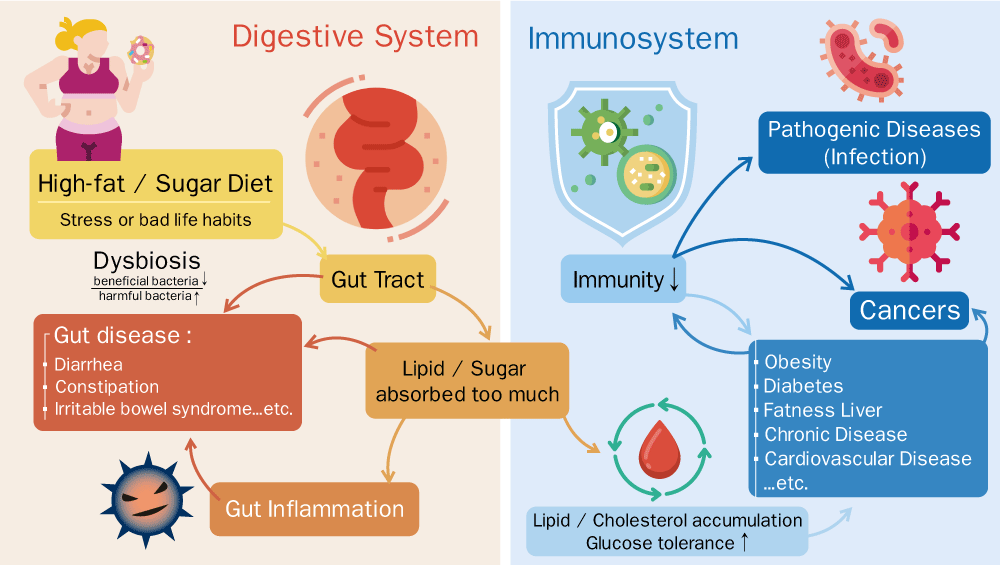 Health gut tract, adequate immunity, and complete microbiota are vital factors to resist invasion from virus. If the body gets defective microbiota or mucous, it is easily to be invaded so that immunocyte defense is the last choice.More over unhealthy persons or child who get weak immunity will be easily infected and incidence disease.
Probiotics - Inhabitants with You in Life
There is a group of population called "Probiotics" which lives in gut tract and fed with various nutrients from hosts, particularly "Prebiotics".
Probiotics offers host many advantages :

• Help human bodies to digest matters humans need (which can't digest).

• Reduce the possibility of pathogen attachment.

• Secrete bacteriocin to inhibit pathogenic activity.

• Improve allergic symptoms.

• Activation of immune system.